Driving Inclusive Digital Banking
Speakers:
Financial Communications Society, Morgan Stanley, JP Morgan & Texthelp
Since the COVID-19 pandemic, we've seen the digital world quickly evolve. Lockdown of the physical world led to people using the internet more often and for more reasons. It also sped up the need for financial services to be primarily online, or 'digital by default'. And with that, the need to up the ante with digital accessibility. In this recorded webinar, we look at how financial services can drive digital accessibility in banking.

About the webinar
The need to address digital accessibility is apparent now more than ever. In fact at Texthelp, since the pandemic began, we've seen usage of our accessibility products go up by 400%. With a growing number of customers going online, it's important for every industry to address accessibility barriers. 
'With the banking industry in particular, there's a moral obligation. If you can't do your banking, as someone who has a disability, how much of your independence do you have to surrender? If you have to get someone else to do these tasks on your behalf, that is a huge thing." - Dominic Maher, J.P. Morgan
Financial independence matters. An inaccessible website can leave people unable to manage their own finances independently online.
Watch now on demand, and explore how financial services can improve accessibility for all.
Discover how inclusive design can benefit all users
Explore the role of content and readability in digital accessibility
Gain advice from banks leading the way. Hear how they're improving accessibility for their customers. And future proofing accessibility for their organizations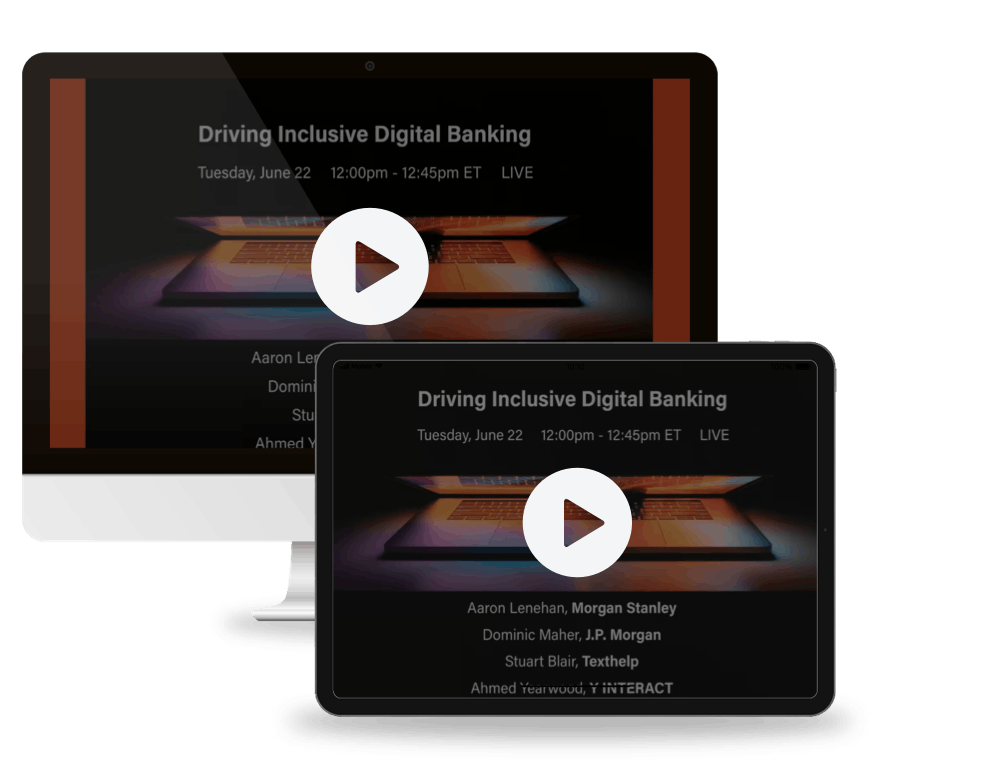 Aaron Lenehan, Executive Director and Head of Experience Design at Morgan Stanley
Listen as Aaron shares how Morgan Stanley improved the accessibility of their own website. And hear how they're building accessibility into their systems to help staff follow best practices.
Dominic Maher, Digital Accessibility Consultant at J.P. Morgan
Hear how J.P. Morgan helps their staff to understand the role they play in digital accessibility. Learn how they're supporting them to do their part.
Stuart Blair, Accessibility Product Manager at Texthelp
Listen as Texthelp offer advice to tackling accessibility errors, and improving the readability of content.
This webinar is presented by...
Kevin Windorf, CEO of the Financial Communications Society (FCS). It's moderated by Ahmed Yearwood, Founder of Y INTERACT and Board Director for the FCS.
You'll also receive...
By registering for the webinar, you'll also receive our guide to understanding the POUR principles, with a focus on ADA (American's with Disabilities Act).
This guide will help you discover how to make your website Perceivable, Operable, Understandable and Robust.